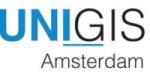 The UNIGIS Programme is the oldest and largest distance-learning MSc. programme in GIS in the world. It is offered via multiple universities worldwide under the flag of UNIGIS International Association and offers ample opportunities for professionals to acquire knowledge and skills in the field of GIS, within their existing organisation as well as to increase job mobility.
The part-time distance-learning programme we offer on academic Master-level combine well with work and private life. In short:
Part-time study, combines well with your work: about 10 hours a week of study
Distance-learning: studying through the internet. Only one week per year, in June, presence is required at the VU campus in Amsterdam
A modular course structure with freedom of choice in study material
FREE GIS-software (an Educational license of ArcGIS and GeoMedia)
FREE and unlimited access to ESRI's Virtual Campus
The right to buy software at student rates through Surfspot.nl
Visit the UNIGIS website for more information.