Springer published the book by Spinlab researchers Danbi Lee, Eduardo Dias and Henk Scholten about Geodesign examples and success stories:
Lee, D.J., Dias, E.S. & Scholten, H.J. (eds), Geodesign by Integrating Design and Geospatial Sciences, GeoJournal Library Series, Volume 111, Springer, 2014
The book, a.o. contains: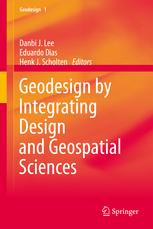 Carl Steinitz's introduction to his seminal work on the geodesign framework
Insight into emerging geodesign projects ranging from climate adaptation to public engagement
Special emphasis on including heritage landscapes in design processes
In Europe, the emerging discipline of geodesign was earmarked by the first Geodesign Summit held in 2013 at the GeoFort, the Netherlands. Here researchers and practitioners from 28 different countries gathered to exchange ideas on how to merge the spatial sciences and design worlds. This book brings together experiences from this international group of spatial planners, architects, landscape designers, archaeologists, and geospatial scientists to explore the notion of 'Geodesign thinking', whereby spatial technologies (such as integrated 3D modelling, network analysis, visualization tools, and information dashboards) are used to answer 'what if' questions to design alternatives on aspects like urban visibility, flood risks, sustainability, economic development, heritage appreciation and public engagement.
Springer book on GeoDesign published