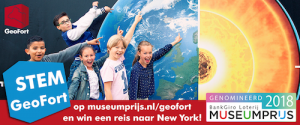 GeoFort is in de race voor de Museumprijs 2018!
Al jaren werken we als Spinlab VU samen met GeoFort. Zo hebben we samen heel Nederland in minecraft omgezet en een geweldig educatief platform gecreëerd waarin kinderen, docenten en jongeren zelf bouwen aan een duurzaam en toekomstbestendig Nederland.
In een korte tijd heeft GeoFort op een historisch fort van de Nieuwe Hollandse Waterlinie een prachtig, innovatief museum gerealiseerd. Dit werd in 2016 beloond met de prijs voor het beste kindermuseum van de wereld. Door de innovatieve en aansprekende manier waarop bezoekers kennis maken met techniek, zijn zij nu genomineerd voor de BankGiroLoterij Museumprijs 2018.
Nu willen ze natuurlijk graag winnen! Daarvoor hebben ze elke stem hard nodig. Steun jij ze ook?
Jouw stem
Stemmen kan van 3 april tot 8 mei. Met jouw stem maak je ook kans op een reis voor 2 personen naar New York!
Ga naar www.museumprijs.nl/geoforten stem!
Spread the word in jouw netwerk
De Museumprijs is een publieksprijs. Het museum met de meeste stemmen wint.
Vorig jaar is er ruim 80.000 keer gestemd. Dat betekent dat GeoFort een flinke uitdaging heeft. Wil jij hen helpen om zoveel mogelijk stemmen te krijgen? Dan vragen zij jouw hulp om dit bericht verder te verspreiden.
Deel www.museumprijs.nl/geofortvia email of via social media aan jouw familie & vrienden en binnen je eigen netwerk.
Naast de titel 'Museum van het Jaar", ontvangt de winnaar 100.000 euro. Hiermee kan GeoFort een nieuwe exhibit realiseren. Hun museumdroom is een Virtual Reality Experience waar de bezoeker een virtuele reis rond de wereld kan maken. Een prachtige aanwinst voor de GeoExperience!
Bedankt mede namens GeoFort!