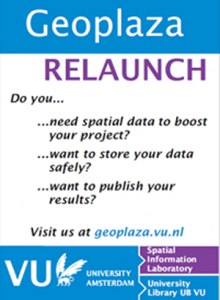 The University Library (UBVU) together with the Spatial Information Laboratory (SPINlab) have redesigned and upgraded the Geoplaza Spatial Data Portal. VU Geoplaza is the portal for all matters related to GIS (Geographical Information Systems) and geodata at the VU University Amsterdam. It gives a platform for students and employers that wish to exchange, examine and download digital map material.
The new VU Geoplaza portal allows access to more data sets and offers everybody at the VU the possibility to upload and publish your own spatial data sets and create and store your own maps.
A range of manuals is available to assist you finding spatial data set in the data repository or uploading and publishing your own spatial data sets in a Geoplaza Project.
UBVU and SPINlab relaunch the Geoplaza Spatial Data Portal