Last week NLeSC´s complete team of eScience Research Engineers, together with archaeologists and historians of the Via Appia project, collaborated for three days in a row on building a point cloud 3D Geographic Information System for the archaeological study area between the 5th and 6th mile of the Via Appia in Rome. The Via Appia was one of the earliest (i.e. 312 BC) and strategically most important roads of the Roman world. A 3D GIS will allow archaeologists to reconstruct historical objects and their relationship to past landscapes.
Tim Pijls and Joey van Kuijck, two history students working on the Via Appia project, explain how archaeological research will benefit from a 3D GIS.
Read more….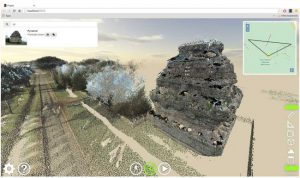 The NWO funded Mapping the Via Appia project is led by the Radboud University Nijmegen. The project aims at a thorough inventory and analysis of the Roman interventions in their suburban landscape, the reuse of this landscape after antiquity, and the possibilities for future landscape developments. […] The project needs a sophisticated 3D-geographic information system in which the researchers can store, share, analyse, and present their research results. The 3D GIS part of Mapping the Via Appia is taken on by the Spatial Information Laboratory of the VU University Amsterdam in close collaboration with the Netherlands eScience Center.
For more information about this project, please contact Maurice de Kleijn.
eScience team collaboration on Via Appia point cloud