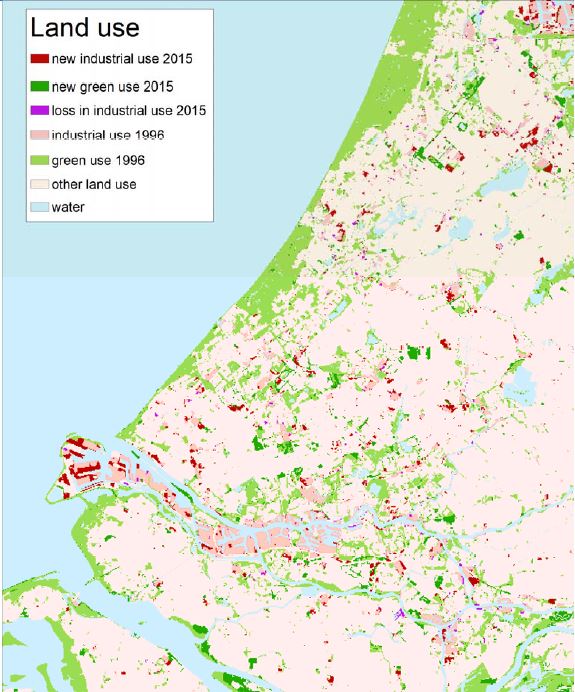 SPINlab started a new research project on focussed on the transformation and expansion of formal business estates (bedrijventerreinen) with several societal partners.
The new 'ruimte voor werken' (space for employment) project has been granted by NWO as part of the VerDuS SURF Pop Up 2019 programme. The demand for residences and structural change in the economy impact industrial land-use dynamics. This project studies the (spatial) conditions that make industries vacate land for other activities in some locations, and claim additional space in others. With the results we want to inform the transformation process of current business estates.
The analysis starts by mapping past transformations of business estates and will then analyse the reasons for these changes, focusing on, amongst others, location characteristics, financial aspects and environmental criteria. This analysis hopes to uncover the conditions that contribute to successful transformations where employment and residences are able to co-locate.
As case study area we selected the metropolitan region of Rotterdam and The Hague where the demand for residences and industrial sites is particularly pressing. The ongoing transformation of older business estates may result in a lack of space for employment and is thus an important topic in local spatial planning. As part of this research project we will look into the possibilities of compensating the this loss of space.
Dirk Osse will be working on the research project under the supervision of Eric Koomen. The project was defined in close cooperation with Metropoolregio Rotterdam Den Haag, Ecorys and PBL Netherlands Environmental Assessment Agency and will be carried out together with them.